Archived Content
This archived Web page remains online for reference, research or recordkeeping purposes. This page will not be altered or updated. Web pages that are archived on the Internet are not subject to the Government of Canada Web Standards. As per the Communications Policy of the Government of Canada, you can request alternate formats of this page on the Contact Us page.
Glenn Gould
Later Career
Documentaries (Part 2 of 2)
Manuscript notes and track plans for The Quiet in the Land, 1975
---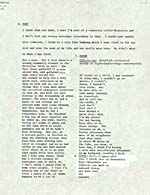 Part of the script for The Quiet in the Land, including sound effects log and production data. Annotated typescript, 1975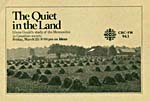 CBC promotional copy for broadcast of The Quiet in the Land, "Glenn Gould's study of the Mennonites in Canadian society", March 25, 1977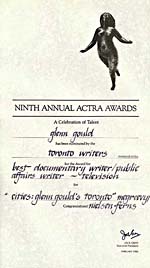 ACTRA Award nomination for the best documentary writer or public affairs writer for television, honouring Cities: Glenn Gould's Toronto
Although Gould admitted no political or religious affiliations or commitments (he did not lend his name to petitions or declarations, for example) he tended towards pacifism and animal protection, and he abhorred violence. One of his last activities was to provide the music for the film production of the novel The Wars by his contemporary, Toronto-born writer Timothy Findley. The book describes the experiences of a young soldier from Ontario during World War I.
---
The Wars. Manuscript music log and notes, May-June 1982, for musical arrangements